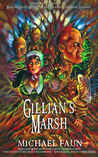 Gillian's Marsh by Michael Faun
My rating: 5 of 5 stars
Blood in the water, blood in the land. Southern Gothic crossed with B-Movie, like John Farris and Flannery O'Connor wrote a script to be directed by Jim and Artie Mitchell. Lurid and mesmerizing, festooned with horrors taken for granted flowing into each other like water under the mangrove trees overhung with Spanish moss in little old New Alabama…the narrator's camera eye does not shrink from depicting each gross and engrossing incident in this catalogue of terror.
It's just past the Civil War in the American south. Luann Lee escapes the preacher only to be "rescued" by Red, who should probably be played by Rory Calhoun if you can't get Kurtwood Smith, in the movie, when someone like Brian Yuzna or Stuart Gordon directs it.
I can just imagine Red's face, with a furking leer on it and the blood running from his mouth. Michael Faun depicts him so expertly, draws the environment so clearly, evokes crawling horror so well, that you'll never get the taste out of your mouth.
Highly recommended. Also recommended-Drugula, by the same author.