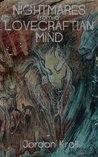 Nightmares from a Lovecraftian Mind by Jordan Krall
My rating: 5 of 5 stars
Smooth, polished, professional. Disturbing, subtle, and definitely nightmarish. The stories in this volume are not so Lovecraftian as the title would have you believe. There is a dollop of cosmic horror, but none of the usual suspects are present. No hooded cultists, octopus-headed monstrosities, cyclopean ruins, non-Euclidean space.
Headspace is more the issue. The Lovecraftian "mind", indeed. Some of the matter-of-factness of JG Ballard, the inventive weirdness of David Lynch, the slightest hint of Philip Dickian mindrape, a tinge of the existential, a small infusion of the Gnostic. The reading of strange texts informs the text. Mr. Krall has been turning some strange pages indeed, and he melds all of those disparate elements into a surreal collage all his own.
These are pictures of minds after "experiences", continuing to try to function in mundane space, and largely failing.
Recommended reading.
More to come.
I really enjoyed this book. It kept me from sleeping soundly, both by engaging my attention while reading late at night, and then speaking to me in my dreams.
This was not my introduction to Jordan Krall's work but it is the first full-length book I've read of his. I have seven more, which will appear in these pages at some point.
I also have another nine bearing the name of his small press. And I'm not a serious collector. I just buy the best that I can find.