Dropped a load of capsule reviews on Amazon and Goodreads yesterday, uploaded two new tracks. Working on one more tune and the cover for Fear and Loathing in Innsmouth, which I'm trying to get out by Xmas. The tune is a long prog/classical piece ostensibly about the King and Cassilda, whose story I've been reading recently.
The new tunes are milf, a fusion-y piece with beautiful clean guitars, and Tansy, named after the heroine of Fritz Leiber's Conjure Wife.
Here are the reviews:

The Beautiful Thing That Awaits Us All by Laird Barron
My rating: 5 of 5 stars
Laird Barron writes a muscular brand of prose, the hard-bitten, hard-lived sort of terse wordage deployed by such as London or Bierce. His competent heroes explore events that move them out of their comfort zones and present them with problems that will devour them (sometimes literally) if they don't act or react properly.
The plots are invisible, the situations believable, the realization fantastic.
Really really good stuff. Compulsively readable-there are reasons why Barron is so popular with readers of weird fiction. He has a practiced hand and a good eye for reeling in the big fish.
Closest comp: Ambrose Bierce.

Chick Bassist by Ross E. Lockhart
My rating: 5 of 5 stars
Really rings true. As a former rock band member, I can identify with the rock-world events. The characterization is sharp, the plotting appropriately loose, the setting perfectly drawn. The moral(s) is/are there but the author doesn't have to beat you over the head with them and refrains from doing so. Closest comp: Cold Iron (Robert Stone Pryor).
Highly recommended.Chick Bassist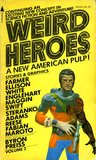 Weird Heroes Volume 2 by Byron Preiss
My rating: 4 of 5 stars
These are awesome collections of original fiction, spearheaded by Preiss. Dunno why they didn't reach much of an audience but I enjoy the hell out of them, especially Goulart's Gypsy adventures. Recommended.
Outies by Jennifer R. Pournelle
My rating: 3 of 5 stars
This series declines in quality from book to book;but the first one was of such very high quality that the floor is four or five levels up. Not quite satisfying as the end of the series, but it probably should be unless some real inspiration comes along. Well-worth the read but a little bit laundry-list, a little formulaic.
The characters are still well-drawn but it's hard for me to get involved with royal families and all of that-the importance of the people lessens the import of the events of the narrative.
I'd recommend it, but with some reservations. Not really for anyone who wasn't captivated by the Moties in the first place.

My rating: 5 of 5 stars
Excellent sci-fi adventure. Has Lovecraftian undertones but refrains from name-dropping. Overall reminds me of Golden Age fiction-fast-paced, organized. There's a little bit of game-leveling but it's not obtrusive. The characters are well-drawn and believable, the alien races are integrated into society in a reasonable fashion. The plot is just a touch by-the-numbers but that's good, too, because it gives the readership a set of expectations for Mr. Thomas to meet.
Worldbuilding-A+. There's far more than meets the eye. Plotting-B. Could be more byzantine or involve more red herrings for my taste. Overall, A. Five stars.
Deftly-executed, almost too readable–hard to put down. I did two reads-the second in one sitting. Effective as hell.
Reminiscent of:Alan Dean Foster (though with profanity), Ron Goulart, non-Dorsai Dickson. Highly recommended. Good as a standalone or as part of the series.